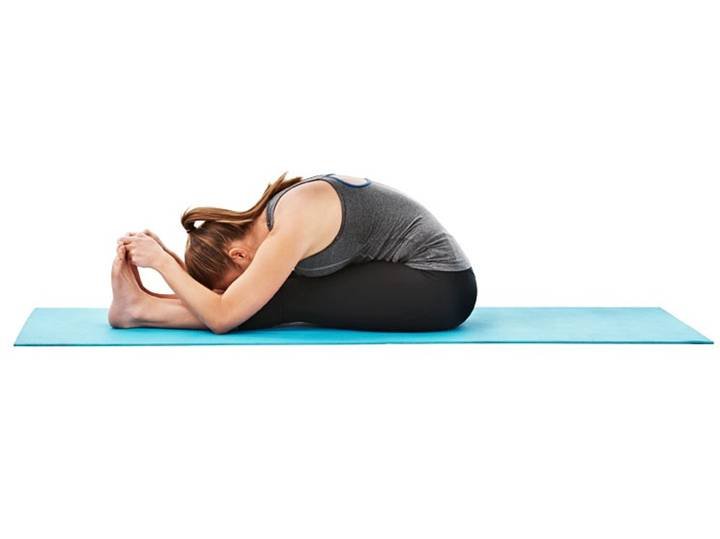 This is one of the basic poses of Hatha Yoga, and it stimulates the center of your solar plexus. Along with acting as a tummy toning pose, the forward bend also offers an admirable level of stretch to the hamstrings, thighs, as well as hips. It is also ideal for those who are prone to digestive disorders.
How To Do Paschimottanasana
Sit on the floor in Sukahasana or Padmasana.
Keep your spine erect, and stretch your legs out to your front. Your feet should point to the ceiling.
Inhaling deeply, stretch your hands above your head without bending your elbows. Your gaze should follow your hands. Stretch your spine to the maximum.
Exhale, and bend forward from your thighs. Bring your hands down and try to touch your toes. Your head should rest on your knees. Beginners can try touching their ankles or just thighs as a starter.
Once you touch your toes, hold them and try pulling them backward till you experience the stretch on your hamstrings.
Breathing in, hold your tummy, and try to retain the position for 60 to 90 seconds initially. Slowly, increase the time of holding the position for five minutes, or if possible, more.
Exhaling, bring your body upward, relieving your toes from your fingers to come back to the Sukhasana or Padmasana pose.
Repeat the asana 10 times to begin with, working up to 25 times or more.
Variations of Paschimottanasana
Those who are new to the pose can try Ardha Paschimottanasana. The process is the same as outlined above. The only variation is that you have to stretch out only one leg at a time.
Benefits of Paschimottanasana
Relieves stress
Helps in the reduction of fat in the abdomen
Balances menstrual cycles
Cautions of Paschimottanasana
People who have spinal disc disorders, or had abdominal surgery recently must not perform this pose. Even individuals suffering from asthma and diarrhea must stay away from this pose.