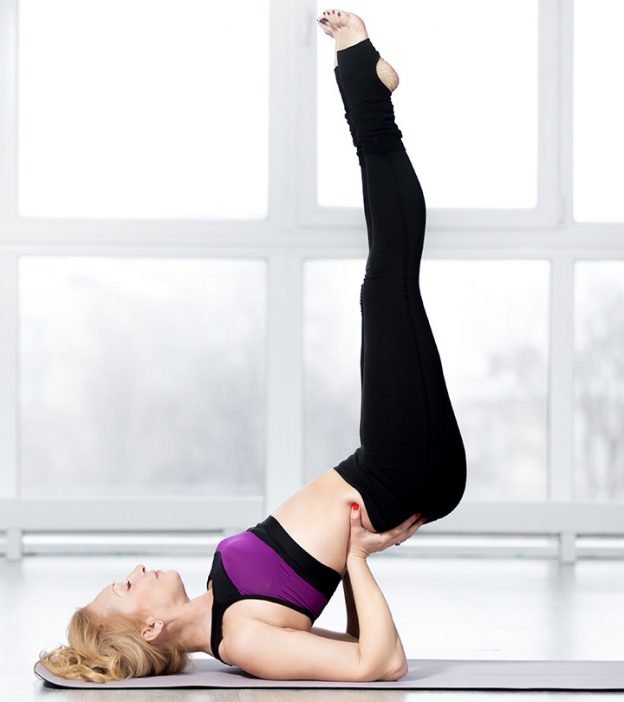 This position, Viparita Karani,relieves backache and improves the flow of blood to the pelvic region. As this pose stretches the back of the neck, front torso and back of the legs, it easily helps in relaxing your feet and tired legs. Even with a decent fertility rate, you can increase the chances of conception by relaxing in this posture after sex.
Getting Into Legs Up the Wall Pose:
Start by collecting the items your will need for this session, which ideally includes a yoga mat, yoga block, and two small towels. Lie on the floor near a wall and practice deep, steady breathing. Exhale and swing your legs up onto the wall so that your heels and sitting bones are supported against it. If you have any discomfort in your lower back, adjust your body slightly back from the wall so that your sitting bones are not touching it. Rest your head on the mat or floor, keeping your spine straight, and bend your knees a little so your kneecaps won't lock.
When using support: If you have any lower back pain, support your body by placing a yoga block or folded blankets on the ground beneath your back. When positioning your support, you must consider its height and its distance from the wall. Be honest with yourself to avoid straining any muscles! If you are not very flexible, your support should be lower to the ground and farther from the wall. If you are flexible, keep your support higher and closer to the wall. Your sitting bones do not need to be against the wall, rather "dripping" down into the space between the wall and your support. Keep a gentle arc in your torso from the pubis to the top of the shoulders.
If your neck feels strained, place a small, rolled-up towel under it. Cover your eyes with the other towel and keep your them closed for 5 – 15 minutes as you soften and release. Rest your arms out to your sides. Open your shoulder blades away from the spine, relaxing your hands and wrists. Keep your legs held vertically in place, but only partially flexed.
Release the weight of your belly toward the back of the pelvis, deeply into the torso. Soften the eyes and turn them down towards your heart. After you come out of this restorative pose, be sure to lie on your side for a few breaths before sitting upright with your back against the wall, then slowly rising to your feet.
Benefits of Legs Up the Wall Pose:
Regulates blood flow
Alleviates menstrual cramps
Relieves swollen ankles and varicose veins
Helps testicular, semen, and ovarian problems in men and women respectively
Improves digestion
Restores tired feet or legs
Stretches the back of the neck, front torso, and back of the legs
Improves problems of the eyes and ears
Relieves mild backache
Provides migraine and headache relief, especially when done with a bandage wrapped tightly around the forehead and back of the skull
Helps keep you young and vital
Calms anxiety
Relieves symptoms of mild depression and insomnia